Husker Ready-Mixed Concrete provides the full-range of ready-mixed concrete services, from high strength concrete for tall buildings to lightweight concrete for floors or elevator shafts. With hundreds of mix designs in our computer system and an infinite number of possible mixes, Husker Ready-Mixed Concrete has the experience and technology to provide you with the right concrete mix to fit your specific needs.
Whether you're a contractor, engineer, architect, or individual homeowner, our concrete is produced to meet your specifications. For customer's who aren't sure what they need, our experienced staff is ready to provide consulting and assistance.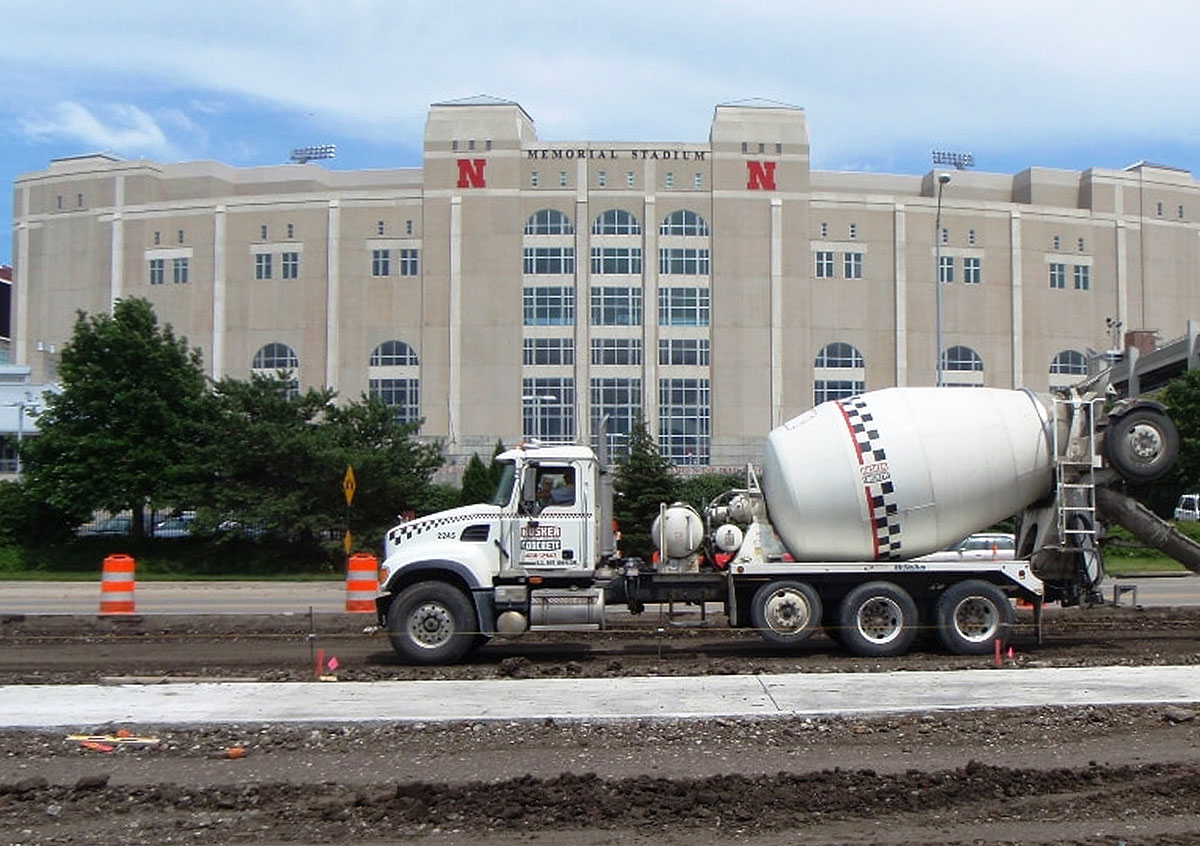 Concrete Additives
Accelerators
Accelerators, such as calcium chloride, are added to concrete to speed up the curing process. Cure rates can be shortened by two-thirds with accelerators. This allows the concrete to become stronger, quicker. There are also benefits to using accelerated concrete when working in low temperature environments.
Retarders
Retarders slow down the curing process so that concrete takes longer to set. Bestway's retarders can be used in high temperatures, where concrete cures quickly. Retarders allow concrete to be hauled farther, and allows more time for texturing.
Color
Coloring agents are a simple and inexpensive way to add a touch of design to your project. Color can be added to any mix, and can also be textured or stamped to create different effects and finishes. Color concrete is not a surface treatment but is added to the mix to achieve a uniform color throughout the concrete.
Water-Reducing Admixtures
Concrete containing a water-reducing admixture needs less water to reach required slumps than untreated concrete. This usually results in higher strength without increasing the amount of cement.
Plasticizers
Plasticizers reduce water content to make high-slump, highly fluid and flowing concrete. It's often used for hard to reach areas or when pouring around objects such as rebar.
High Strength Admixture
Add silica fume to concrete and it becomes less permeable and highly compressed. It's often used for high stress pours such as structural columns.
Shrinkage Reducing Admixtures
If concrete isn't poured and cured properly, differences in moisture level between the different levels in a concrete slab can lead to cracking. While many variables can lead to cracking, in general, shrinkage reducing admixtures can minimize the effects.
Fly Ash
A byproduct of burning coal, fly ash can replace part of the cement in a concrete mixture. It increases concrete strength, pumpability, durability, and workability.
Air-Entrainment Admixtures
Air-entrainment admixtures introduce microscopic bubbles that help concrete resist cycles of wetting and drying, as well as freezing and thawing.
Corrosion-Inhibiting Admixtures
These admixtures slow corrosion of reinforcing steel in concrete. It's often used when a structure will be exposed to high concentrations of chloride.